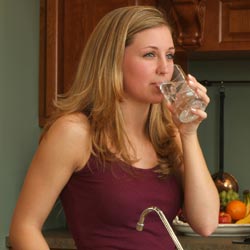 We offer installation of water treatment products and offer service to all makes and models of water heaters and water treatment systems. We are a North Star water products dealer for water softeners, reverse osmosis systems and anti-microbial products. We are also dealers of A.O. Smith water heaters.
North Star Products
North Star Home Water Softening Systems

In short, water softeners make your life better and your pipes and appliances last longer! Water hardness is America's #1 water problem and is found in 85% of homes! North Star's line of Water Softeners eliminates those hard water problems!

North Star Reverse Osmosis Drinking Water Systems

North Star gives you bottled water quality straight from your sink! There's a growing demand for clean water. Sales of bottled water and pitcher filters continue to rise. But these are only stop-gap measures since impurities can affect more than the water your family drinks. North Star offers quality, convenience, dependability and peace of mind!

North Star Specialty Filtration Systems

It is possible that you have additional water problems which cannot be corrected with a water softener alone. North Star has a complete line of specialty water treatment equipment designed to solve your household water problems! Whatever the problem, whether it's excessive iron, tastes and odors, acidity or sediment in the water, North Star has a water treatment solution for you!
AO Smith Products
A. O. Smith Water Heaters

A. O. Smith is a leading manufacturer of commercial and residential water heaters. We offer a complete range of water heater products, including conventional gas and electric models, hybrid and solar system and tankless products.